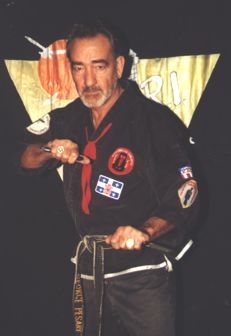 Senior Grandmaster Pesare was a 10th degree Black Belt and is the undisputed founder of Kempo Karate in New England. The 10th degree Black Belt level is one of the highest achievements in the martial arts community and is at the Professorship level. SG Pesare began his martial arts career with Karazenpo-Go-Shinjutsu in 1958 with his instructor, Grandmaster Victor (Sonny) Gascon, one of the Kempo founders in America.
Upon Grandmaster Gascon's retirement he gave the responsibility of teaching the true Karazenpo-Go-Shinjutsu to SG George Pesare. Mr. Pesare continued his training in addition to the following martial art disciplines: 5th degree Black Belt in Judo 4th degree Black Belt in Taekwondo 4th degree Black Belt in Eskrima 2nd degree Black Belt in Aikido These martial arts ratings were accompanied with college degrees in advertising and science. In the world of realistic self-defense, George Pesare had been a law enforcement officer for over 20 years. During his tenure with the Providence Sheriff's Department, he served as Training Officer and Range Master. During his tenure with the Kent County Sheriffs department, he also served as Training Officer and Range Master, teaching all aspects of firearms to Federal, State, and municipal agencies.
Mr. Pesare was the coordinator of the National Rifle Associations' Annual Police Pistol Regional Championships. He was also a member of the coveted '1490' club. He is the 1994 Rhode Island State Police Pistol Champion, and was the Police Pistol Champion of the Prestigious Police Pistol Governors Twenty. Mr. Pesare was also the President and Rhode Island Match Director of the Rhode Island Police Pistol Combat League.